Auto Collision Repair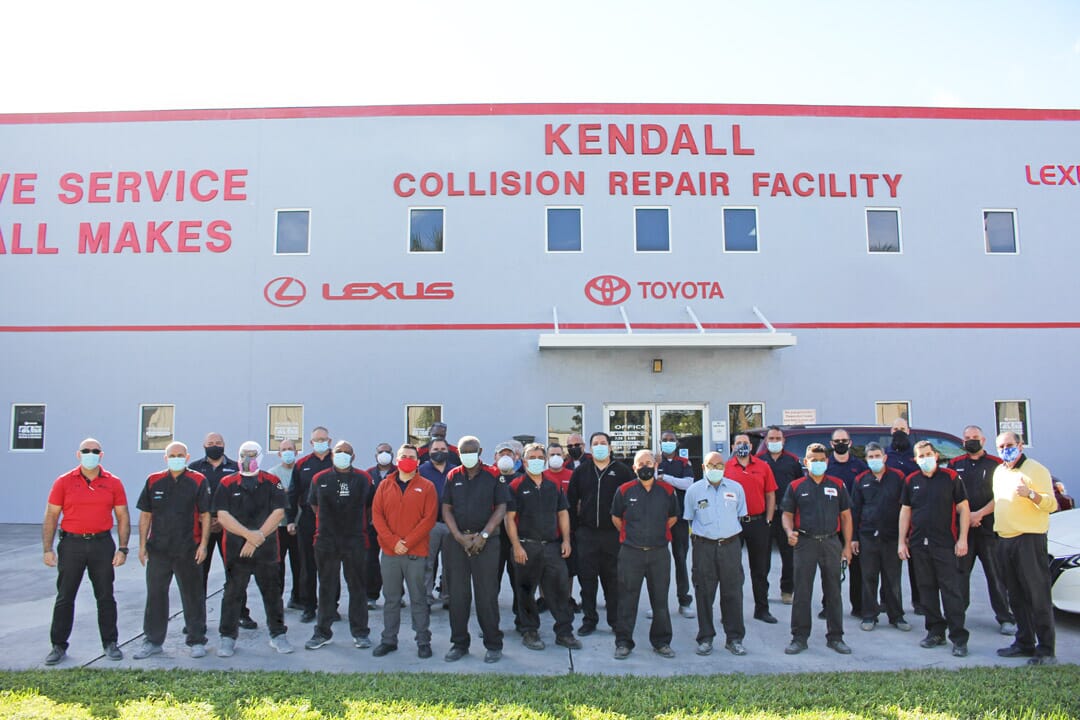 KENDALL COLLISION CENTER
Please call us today 786-619-3988
| | |
| --- | --- |
| Weekdays | 7:30 AM – 6:00 PM |
| Saturday | 8:00 AM – 12:00 PM |
| Sunday | Closed |
Kendall Collision Center has been serving Miami, FL. for more than 15 years. We are the trusted body shop for Kendall Toyota, West Kendall Toyota, Lexus of Kendall and Lexus of West Kendall.
Auto Repair Done Right.
lf you have been involved in an auto accident, we would like to help you make the best decision for your auto repair. Our specialists are here to answer any questions you may have regarding repair or insurance.
You have the right to choose the repair facility that you know is going to give you a quality repair.
GUARANTEED workmanship for as long as you own your vehicle
Factory trained, ASE and I-CAR Certified technicians
Computerized frame repair and specialized measuring equipment
Original equipment paint, clearcoat and auto replacement parts
Highest quality paint finish with four downdraft paint booths
Affordable transportation rental vehicles are provided
Auto Collision Repair. Serving Miami since 1995.
We are the trusted body shop for Kendall Toyota, West Kendall Toyota, Lexus of Kendall and Lexus of West Kendall. Our Toyota Certified Collision center works with an incredible team of highly trained technicians and quality, precision equipment. At Kendall Collision Center, we focus on making sure our customers expectations are always met.
Affordable, quality auto repair is closer than you think.
Kendall Collision Center is located at 12480 SW 130 Street in West Kendall, FL.
The facility is approximately 1.7 miles east of West Kendall Toyota by taking 136 Street to SW 127th Avenue. Easy access is available from 127th Avenue, the Florida Turnpike or the 874 Don Shula Expressway.
What does it take to become a Toyota Certified Collision Center?
It takes effort and quite a few steps to become a Toyota Certified collision center. In fact, Toyota has some of the most comprehensive program requirements of any non-luxury car brand, and there's a number of them.
All Out Customer Experience
We believe customer satisfaction the most important thing. We assure our customers quality repairs within a timely manner. Our auto body shop promises to deliver your car in like-new conditions.
TRAINING
To ensure you have reliable and honest technicians, our techs go through a rigorous Toyota training program to provide our customers the highest quality repairs.
EQUIPMENT
We use the latest high-tech equipment to ensure your vehicle is kept in the best shape possible for years to come.
FACILITIES
Our stupendous facility has procedures in place to assure track repair times and a neat waiting room.
PERFORMANCE
Our team sets the standard for quality by taking care of every detail.
GENUINE TOYOTA PARTS
We use Toyota Genuine Parts which promise to extend the value and reliability of your repair.
MANAGEMENT
We're here to serve you and provide assistance should you need help with your insurance or need a rental.
QUALITY CONTROL
To ensure your vehicle is repaired within a timely manner with monitor quality and productivity.
SAFETY
For your peace of mind, we use the best products and provide warranty for all our repairs.
Auto Repair at West Kendall Collision
Best Value. Fast Service. Friendly Staff.
Our Toyota Certified Collision center works with an incredible team of highly trained technicians and high quality equipment. At Kendall Collision Center, we focus on making sure our customers expectations are always met.
When accidents happen we want to be there for you. We do our best to make sure our customers feel safe and secure when they leave their vehicles with us. Our friendly team of collision advisors are always here to help and provide customers with step-by-step communication the entire way. To better serve our customers we work directly with almost every auto insurance provider in South Florida. This allows for our team to assist customers with any paperwork and claim management.
You have the right to select what auto body shop will repair your vehicle. Choose one that will work for you. Taking your vehicle to a body shop that uses manufactured recommended parts and follows repair procedures, sets the standard for quality. If your insurance company wants to send you to another body shop, request to bring your car to Kendall Collision Center. We've worked with dozens of insurance companies to help expedite client claims and will make sure you get the repair you deserve.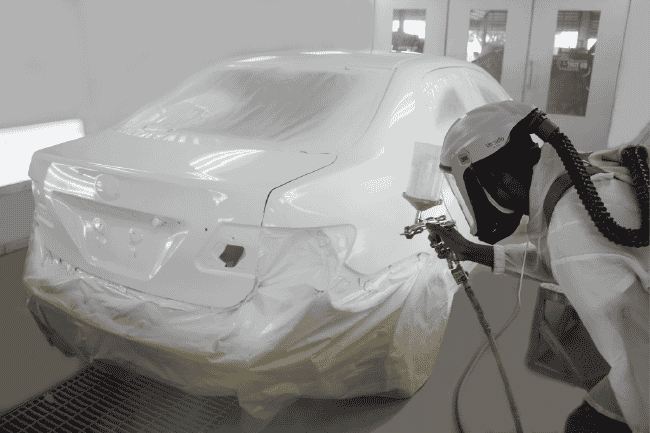 We provide 24-hr towing and welcome walk-ins. Our team of Toyota Certified Technicians complete hours of hands-on training and must pass rigorous exams through both Toyota and the National Institute for Automotive Service Excellence (ASE) to achieve and maintain their certification. Trained auto technicians are the key to a successful body shop. Our repair facility is equipped with the right tools and in-house computer paint mixing for color match so you can rest assured knowing your vehicle is being repaired correctly. Before any work is done to a vehicle we make sure the customer is fully aware of the cost. We know dealing with a car accident can be difficult so we strive to make things as easy as possible for our customers.

Do you only repair Toyota vehicles?
No! Although our center is certified in fixing Toyota and Lexus vehicles, we also repair any make and model. We use only new or Genuine Toyota Parts in the repair of your vehicle. Genuine Toyota Parts are designed to meet quality, safety, and appearance specifications that may not be replicated on imitation parts. For non-Toyota vehicles, we use original equipment manufacturer's parts made by the manufacturer of your car. We offer free estimates with full transparency and accept all auto insurance claims. If additional damage is found during the repair of your vehicle and it is due to the accident, the insurance company will pay for them.
What kind of repairs do you offer?
At Kendall Collision Center we do every kind of repair. Some common body damages we fix are window damage, paint damage, bumper and key scratches, body dents, and cracks in plastics. As a Toyota Certified Collision use the very best paint and accurate paint codes. When you leave your car with us you can trust that we will restore your car to new.
Do you accept any insurance?
Yes, we accept all major insurance companies. Request your estimate today and send it to your insurance company. We will help you with all the steps of your auto insurance claim process to make sure you get a proper repair.
How long do repairs take?
We know it can be an inconvenience to be without your car that's why at Kendall Collision Center we do our best to keep things simple. Some key factors play a big role when it comes to determining a repair time. Our collision advisors must first examine the severity of the damage, then check if the parts are available, and of course getting the insurance to approve the repair can affect your repair time. We provide customers an expected out-date assuming we won't have any issue. If there is a delay in your vehicle repair, your advisor will make sure to call you and notify you of this change.
How will I know when my car is ready?
A customer service representative will notify you when your car is ready for pickup.
Where can I get a rental?
If you're in need of a rental car, we have a shuttle that will transport you to the nearest Hertz or Enterprise which provide our customers with bodyshop rates. If you are the claimant the insurance company will usually pay for the rental car. If you are unsure if your insurance policy covers rental cars we recommend calling to find out if you have coverage.
Do you have a warranty?
We know our work won't disappoint, that is why at Kendall Collision Center we offer our customers a lifetime warranty on all workmanship and parts. This warranty lasts for as long as you own the vehicle and is non-transferable.
Visit Kendall Collision Center today to receive the finest repair on your vehicle! We are located at 12480 SW 130th St, Miami, FL 33186.
MEET KENDALL COLLISION