We are your Toyota dealer near Key Largo
Key Largo, also known as a nearby vacation spot for Miami locals and other Floridians, is surrounded by water and is a great place to fish, snorkel, dive and of course, eat seafood. Many Key Largo residents live a laid-back, relaxing lifestyle and love the ocean. Though many may prefer to be on the water in a boat, they need a capable vehicle that can tow their boat and carry any belongings they may have, and at West Kendall Toyota, we have the right vehicle for the job.
New Toyota dealer near Key Largo, FL
We're one of the closest Toyota dealers to Key Largo with the best staff that'll make sure your drive was well worth it. We know your time is valuable and our team's mission is to deliver on every customer's expectation, one customer at a time. We deliver on our promise to provide the best car-buying experience to our customers, just ask the thousands of happy customers who have left us amazing reviews. We'll make sure to match you with the right vehicle, call us or chat with us online to get started.
New Toyota Tundra at West Kendall Toyota
Key Largo car shoppers and residents on the mainland love the ocean that surrounds us. Whether it's snorkeling in Biscayne Bay or diving miles off the coast, the ocean provides a lot of fun activities that require a boat. Many residents are fortunate enough to own one, but many need a vehicle that can tow it. The Toyota Tundra is a great truck that'll get the job done. With a towing capacity of over 10,000 pounds, the Tundra is more than capable of towing your boat. Other than an impressive towing capacity, the Tundra has much more to offer. The Tundra is packed with technology and features like Apple CarPlay, Android Auto, Amazon Alexa, an integrated navigation system, and an available smart key system just to name a few.
However, if you're looking for much more than just technology and gadgets in your truck, consider the Tundra TRD line. The Tundra TRD Pro and TRD Sport are one of the most capable and dependable trucks on the market. Both carry with them the TRD legacy and known power Toyota has offered for many years. Be a part of the legacy and test drive the Tundra TRD line of trucks, you'll never go back to your run-of-the-mill truck again. Check our online inventory frequently as these trucks are popular and often sell quickly. You can also contact our team to verify the truck's availability.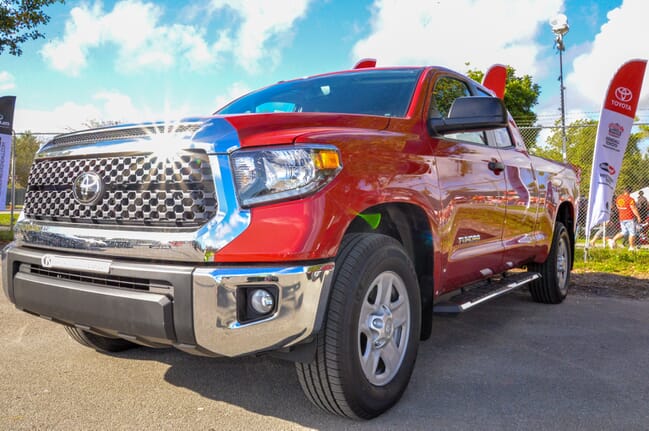 A Great Car-Buying Experience at West Kendall Toyota
From service to sales and everything in between, our dedicated team at West Kendall Toyota work hard to ensure every part of the customer's experience is exceptional. Whether it's a porter greeting you in the service bay or the cashier, to the salesperson helping you find the right car or the general manager making sure your car-buying experience is going smoothly, we all work together as a team and communicate.
One of the most important things of running a great business is communication, and that's something we stand by at West Kendall Toyota. Key Largo residents know they can trust us with all of their automotive needs. Our sales and service centers are conveniently open every day, including Sundays, to better serve you.
West Kendall Toyota is proud to serve the great people of Key Largo and South Florida.