We are your Toyota dealer near The Redlands
Located just outside of metropolitan Miami is the beautiful wide open spaces of the Redlands. Farmland and fields stretch miles upon miles dotted with a few houses and businesses. Local Miamians can purchase beautiful plants and trees from one of the many nurseries in the area or grab some local produce from a number of farmer's markets as well. Around the Fall season, many locals flock to Knaus Berry Farms for one of their delectable cinnamon rolls or smoothies, all made in-house with local farm-fresh ingredients. Another local favorite is the Robert is Here Fruit Stand, available year round. You can also visit the Miami-Dade Fruit and Spice Park located in the heart of the Redlands to learn more about the local plants and resources of the area.
Your neighborhood Toyota Dealer
The agricultural center of Miami is so much more than just farmlands, there's so much to do and so many places to see! Schnebly's Redland Winery and Brewery is located in the southwestern part of the Redlands which adds yet another place to visit to an already growing list. With so many places to visit, you'll need a car to get you there. West Kendall Toyota is one of the closest Toyota dealerships in the area and we have plenty of vehicles for you to choose from. We're just a quick drive up Krome Avenue, on SW 137th Avenue and 138th Street.
New Toyota Tacoma near the Redlands
We know the residents of the Redlands love their trucks, and we have plenty of them in our inventory. Whether you need something big that can tow thousands of pounds like a Tundra, or something to get you and your belongings around easily like a Tacoma, or maybe you need something that can do both plus sit more people like a 4Runner or Sequoia, West Kendall Toyota has them all.
If you're looking for something that has the best of both worlds but is also easy on gas, consider purchasing a Toyota Tacoma. The Tacoma has been a favorite for many years and it's easy to see why. Its reliability and versatility are unmatched, and the new Tacoma model only adds on to the capability, convenience, and safety of an already great truck. The new Tacoma comes in a variety of trim levels from the dependable SR to the iconic TRD Pro, each of them come equipped with the latest technology to provide the best driving experience for you. There's also a long list of new standard and optional features that'll take you further in your Tacoma. With the all-new available Wifi-Connect feature, you can stay connected even while out in the middle of nowhere. There's also an available tow package that'll help your Tacoma tow up to 6,800 lbs or carry a payload of up to 1,400 lbs.
If you love adventure and enjoy driving off the beaten path, the Tacoma TRD Pro is the perfect truck for you. Toyota's TRD line was built for adrenaline junkies and each model is equipped with the best tools to get you where you need to go on just about any terrain. Each Tacoma TRD Pro comes with a unique TRD skid plate which protects important machinery underneath the truck, giving you more space to tackle tough terrain. They also come with special TRD Pro wheels with all-terrain tires which provide optimal strength and traction to your destination, wherever it may be. This and much more come with the Tacoma TRD Pro. Book a test drive with one today at West Kendall Toyota.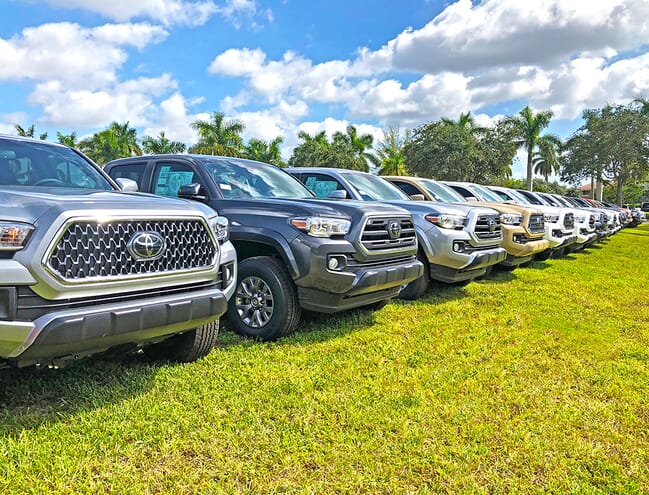 West Kendall Toyota is proud to serve the Redlands and all surrounding communities. Our team is ready to help you find the car you need, call us or chat with us online.